We're UP for all your visits!
We're UP for all your visits!
Office Information
Address:
6400 Dutchmans Parkway, Suite 15
Louisville, Kentucky, 40205
Phone: (opens at 8:00am)
502.895.0524
Emergency Number: 502.895.0032
(we do not have voicemail or automated messaging)
Please try to call us during regular office hours if at all possible.  Our staff is available to make appointments, refill prescriptions, and answer some questions during these times. 
After hours service is available. Call our emergency line to reach the service after 5 pm. You will be able to speak immediately with a nurse. If that nurse is at all unsure how to address your problem they will call and speak with the physician on call. We do share call with other offices, but the basic idea is that a pediatrician is available 24 hours a day!
Office Hours:
Monday – Friday
8:30 am to 5:00 pm
Saturday
9:00 am to 12 noon
Office Hours:
Monday – Friday
8:30 am to 5:00 pm

Saturday
9:00 am to 12 noon
Shot Hours:
(by appointment only)
Monday – Saturday
9:30 am to 11:30 am


Monday – Friday
1:30 pm to 4:30 pm
Shot Hours:
(by appointment only)
Monday – Saturday
9:30 am to 11:30 am
Monday – Friday
1:30 pm to 4:30 pm
If a doctor is not on the premises, we cannot give any injections (allergy or immunizations). If you arrive after shot hours, we will not be able to give injections due to required waiting periods.
Fees & Payments
Co-payments are collected at the time of service. We accept cash, checks, Visa, MasterCard, Discover and American Express. (There is a $30 fee for any returned check.) Please have our insurance card and picture ID with you. If you have new insurance please inform us of the change and the effective date.
Fees: There is a $25 fee for an appointment not kept or cancelled without at least 24 hour notice. There is a $10.00 fee for appointments made the same day that are not kept or cancelled within a reasonable time frame. We try hard to see every child with illness the same day and can not do that if times are unavailable because appointments are not cancelled with enough time to allow us to give them to other children.
If you require duplicate immunization certificates or school forms, there is a $5.00 fee for filling them out. Other forms (FMLA etc.) will be filled out for a charge of $10.00. The doctors will be happy to do this for you, but due to their extensive nature will require extra time to complete them.
Office Visits
We see patients by appointment only so that we may provide you with the best possible service. Walk ins are the exception and not the rule and will only be accommodated when openings in the schedule allow. In order to assure that all patients have adequate time with the doctor we ask that you inform us if you have multiple issues you wish to be addressed. This allows us to try to schedule appropriate time. We can not always address all issues in one visit but it helps if you let us know at the time you schedule the appointment. We try to accommodate all of our patients and remain on time, but sometimes the severity of an illness is unanticipated and extra time is required. If this situation pertained to your child we would give him or her the extra time he or she needed as well.
If a patient is 15 minutes or more late for an appointment you may be asked to reschedule depending on how the physician schedule is running. Sometimes we may be able to work you back into the schedule but there could be a wait.
For your convenience you can download, and fill out, the forms at the following link – Patient Forms.
Prescriptions & Renewals
All prescriptions and authorizations for renewals should be requested during normal business hours. If your pharmacy needs authorization for refills, this is now done by fax. Even if you do not have any refills left, still call the pharmacy and they will fax a refill order to us. (This does not include antibiotics or scheduled drugs such as codeine, Adderall, Concerta). Refills can be requested through the Patient Portal (most efficient) or by calling the office during normal business hours.
Some insurances allow for mail in prescriptions (3 months at a time). If this is an option for you, please indicate the need for a 3 month prescription when you call in, but also remember that it takes 1-2 weeks to get these returned by mail.  If you need a temporary script to fill until the mail order arrives, you must also let us know that when you call.  Please try to call 3-4 days in advance of needing any prescription for best service!
We WILL NOT routinely prescribe antibiotics, eye drops, controlled substances or potent medications of any kind without seeing your child first. This is in the best interest of your child, not something we do to inconvenience you in any way. Some drugs require a special written prescription, and CANNOT be called in by phone.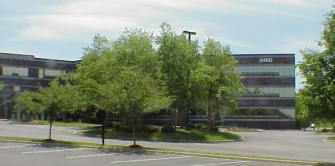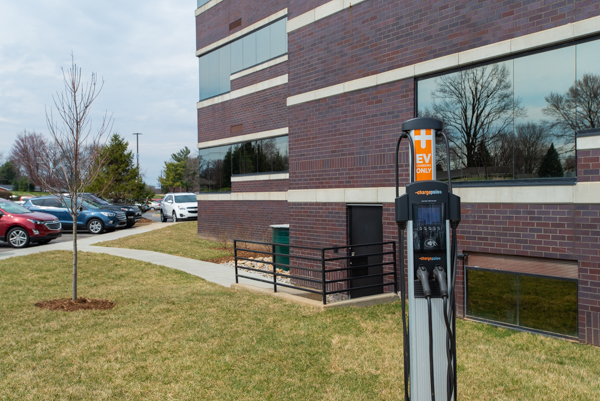 Parking Info
Springs Pediatrics is located in the Springs Medical Center off Dutchman's Parkway. We are located minutes from both Baptist East and Surburban Hospitals, with easy access from the Watterson Expressway and also Interstate 64 via Cannons Lane.
The Springs Medical Center is divided into two buildings, 6400 (see picture) and 6420. We are located in the 6400 building, in Suite 15, which is on the ground (or lower) level. However, while you can enter via the front of the building, you will save time, walk less, and have better parking options if you park around the side of the 6400 building, using our side access doorway Stairwell 2. Pictured at left with EVC station.
Once you have come in this entrance, you will take the stairway down to the lower level.
Our office is located on the right side of the hallway, with separate waiting rooms for well and sick children. Just look for our signs!
Ample parking is available at the Springs Medical Center, with closest parking being reserved for patients. Free Valet Parking and the Electronic Vehicle Charging stations right next to our entrance. If you have further questions, please call our office!